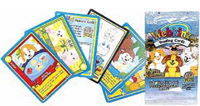 After comparing a variety of different social networking sites for kids in my article the other day, I received many emails in response. A number of the emails were from executives asking how they could make enough noise with any new social networking offering to attract users in an already crowded marketplace? Excellent question indeed!
I don't quite have a specific answer to that question, but I do have an observation to share. How can you make a popular social networking product for kids even better? I have to hand it to the folks at Ganz, the developers of Webkinz stuffed animals and the online social network destination for kids. In addition to the smashing success they've achieved with kids online, breaking over 3.7 million unique visitors in April through the sale of plush dolls (4.7 million in June for Club Penguin, but without such an add on), they've added yet another element to help ensure their future success. Trading cards. Yes, simple as that. Simply brilliant.
Few companies have maintained huge successes with trading cards in the tween and younger demographic over time. Pokémon is a long time leader here, along with Magic and Yu-Gi-Oh. But none of these properties has a successful online component to their cards. At one time, Pokemon had a tie in with their cards to the Nintendo platforms their games could be played on, where you could attach a separate card reader to your gaming device, swipe your cards though and unlock new game features. Now Webkinz trading cards work in a similar way, just online.
If you're a Webkinz fan you've probably known about these cards as early as this past May. It caught my eye today, and I later learned from the specialty store that sold them to me, as well as a few kids I shared them with that the cards have been available for less than two weeks.
I bought a sample at $3 a pack which included six cards. There are a few different card types, but the benefit to the online experience is through the numbered keys printed on some of the cards. When these keys are entered into the Webkinz website, additional features to the online experience are unlocked. Sounds great, yes? Well, initially a few testers pointed out that we need to buy many more packs in order to have enough keys entered to unlock additional features. If a Webkinz doll is $14, which will give you membership to the online site, you may spend as much as $20 or more on trading cards to unlock the items you're interested in. And that's just to get started.
So, let's get back to the original question. How can someone succeed now in the online social networking space for kids? I know a few things for sure that are a must: Find a long-standing play pattern that will appeal to kids (like collecting for example). Tie it together with a compelling community need (like sharing information or bringing similar groups together). Make it an easy to use, compelling product. Sell it through simple messaging. And bring it to market as fast as you can. Time is ticking away quickly so no time to waste!
Average Rating:
4.7
out of
5
based on
268
user reviews.