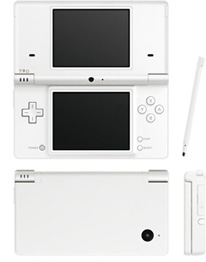 There's a cell phone ad on TV currently that asks why we still refer to our cell phones as "phones" since their capabilities have expanded far beyond that of just making a call. Cell phones today include digital cameras, web browsers, media players, games, and more. As cell phone features continue to expand, so too does the latest game playing device announcement from Nintendo.
On October 2, 2008, Nintendo debuted the next iteration of its popular Nintendo DS handhelds called the Nintendo DSi. It's similar in appearance and functionality to the widely popular Nintendo DS Lite handheld, but the DSi will include the following additional features:
Not one but two digital cameras, one that is a 0.3 megapixel resolution, the other a VGA resolution, both saving images at 640 x 480 pixels.
a built in web browser
an SD card slot
a built in hard drive for storing downloadable games and photos (the hard drive size has yet to be announced)
improved speaker quality and the ability to listen to MP3 files
slightly larger screens (17%)
a thinner footprint (12%)
The DSi battery will recharge faster than the DS Lite battery, but the amount of time a user can play per charge is slightly less than that of the DS Lite (link)
Some minor UI changes have also been made, largely the power up slider switch is now a button on the lower left face of the device. The biggest news about the DSi is it will no longer be backward compatible with Game Boy cartridges, quite a change from Nintendo's long standing effort to be as reverse compatible as possible. In order for Nintendo to shave 2.6 mm from the thickness of this new device, it decided to part ways with the GBA slot.
It's also rumored that both of the screens found on the DSi would be touch-screen capable, but the rumor appears to be incorrect. The DSi will have only one touch-screen as is found on the original DS and DS Lite.
The new Nintendo DSi handheld will be available for sale in Japan starting November 1, 2008 but won't make its way to North America until sometime later in 2009. One reason for the delayed US rollout as suggested in a recent Wired Magazine interview and detailed in PC World is that the Nintendo DS can be found in one of every two households in Japan (also one in every five people in Japan own a DS) while in the US only one in five households have a DS. US sales of the DS continue to be strong while sales in Japan are starting to wane. This DSi rollout strategy suggests that the DS still has a lot of selling life left in the US market before the new platform should hit North America, thus the delay.
Maybe one day if Nintendo adds cell phone capabilities to its handhelds, such a device will still be referred to as a gaming platform and not a cell phone, whereas cell phone companies that add gaming features are still selling cell phones. I imagine how we refer to this device has everything to do with Nintendo's business position, that is to bring fun to everyone through its products. So let's call a cell phone a cell phone, and a video game platform a video game platform. No matter how feature rich they become, it's all about the company's intent. Play on Nintendo!
(For some great images of the Nintendo DSi, visit Nintendo World Report.)
Average Rating:
5
out of
5
based on
270
user reviews.