It's that time of year again in New York City, which means there's either a huge snow storm brewing or the newest crop of toys can be seen at Toy Fair. After being at the American International Toy Fair for the last three days checking out the latest technology toys, I've seen a few noteworthy trends to watch:
First, there are indeed more technology toys at this year's show than last year, including technology products coming from traditional toy companies that have not yet played in the technology space
Plug-and-play devices, which were in great abundance last year, are less noteworthy this year
Of those few remaining plug-and-play products, the new trend is to make plug-and-play toys that connect to the USB port of your computer instead of a television set
And finally, guitars will be big business by holiday of 2007
When I go to toy fair I look for two things: technology and learning. Toys that use technology to deliver learning opportunities is what gets me excited about the show. When you think about technology toys and learning, the usual suspects come to mind: Fisher-Price, LeapFrog, and VTech. What was unusual about this year's toy fair is that LeapFrog was nowhere to be found. They did not exhibit at the show. None-the-less, new products were announced by all. Over the next few days I will describe some of the highlights within tech toys, as well as a few other surprises in the coming days, but today… let's start with just the guitars:
I Can Play Guitar by Fisher-Price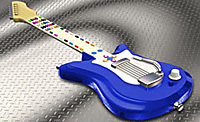 Following on the success of I Can Play Piano, the TOTY (Toy of the Year) nominated product that helps kids learn to play the piano, Fisher-Price has released this new product to help kids learn to play guitar. I Can Play Piano has a wonderful method for teaching how to site read music and translate that knowledge to keyboard playing. I didn't have the opportunity to play with the new I Can Play Guitar product first hand, but look forward to seeing it's instructive solution. This was one of the few TV plug-and-play products at the show and the only new guitar product that uses a screen. It's intended for kids ages 5 and up.
Power Tour Electric Guitar by Hasbro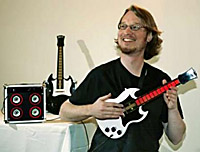 This technology toy is not intentionally positioned as a learning product, but it's bound to influence kids to want to play guitar. This electronic toy teaches kids how to play 12 different songs but also allows an MP3 player to be hooked up to the guitar as well to play along with your favorite tunes. Lights on the fretboard appear to let the user know where to place their fingers. The device also has audio in and out ports. Hasbro worked with the guitar maker Gibson to make this product. Hasbro believes this toy will have a strong appeal to tweens.
Learn & Groove Animal Sounds Guitar by LeapFrog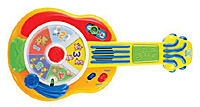 This digital guitar, complete with whammy bar and buttons on it's fret. It not only allows for musical exploration but also introduces numbers, letters, and animals in both English or Spanish. It's suggested use is for infants and toddlers ages 12 to 36 months.
Electric Rockerz Guitar by Zizzle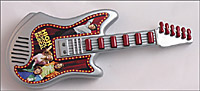 This guitar is not meant to assist with learning but joins the digital guitar bandwagon. This product is the smallest and least expensive of the bunch and promotes the sequel to the Disney Channel TV movie High School Musical. It too targets tweens and is part of a collection of electronic toy instruments that will appear on store shelves later this summer.
Jam With Me Electric Guitar by KidDesign Little information is available about this digital toy but what we do know is that it has a slot to plug in an iPod Nano.
While marketers imply these toys are inexpensive ways to introduce guitar playing to kids without the price tag of a real guitar or lessons it's more likely they're now appearing as a result of the smash success with the video game Guitar Hero and Guitar Hero 2. The only learning that occurs in these PS2 titles is hand-eye coordination and timing, but after 30 minutes of play with these titles, or maybe with these new guitar toys, you too will want to brush the dust off of your Mel Bay guitar instruction books!
Next up, I'll take a look at more non-musical plug-and-play products debuted at Toy Fair.
Average Rating:
4.5
out of
5
based on
223
user reviews.