As a nation we are gaining a greater awareness to the dangers of a sedentary lifestyle and unhealthy eating choices. The CDC reports that approximately 30% of kids ages 6 – 11 are overweight. Because my company is involved with the development of learning products for kids I'm noticing more businesses and schools paying closer attention to what they can do to be a cause for better eating choices and physical activity in a child's daily life. I'm seeing makers of children's television programs find ways to reach out to kids about the benefits of exercise. (Take a look at the show Lazy Town on Nick Jr. or have you noticed how Cookie Monster has changed his eating habits to be more balanced?). Great success is also occurring in the video game sector to get people off the couch and moving, with platforms like Nintendo's Wii, dance pad products like Dance Dance Revolution and other products like Sony's EyeToy and Hasbro's iOn.
Soon you will see more toy companies offering technology products to get kids moving and active. Here are a few noteworthy items I saw at Toy Fair:
Smart Cycle by Fisher-Price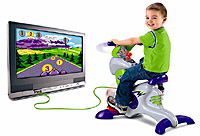 There was much buzz at Toy Fair with the announcement of this toy and rightly so. The Smart Cycle is a TV-based plug-and-play, cartridge-based platform that looks a like a cross between an exercycle for preschoolers and a Big Wheels, but it's also a video game. Once the Smart Cycle is hooked up to your television, children begin peddling and can steer the handlebars to select objects displayed on the screen. Biking quests can include finding letters of the alphabet, shapes, and exploration of other early learning concepts. This product is destined to be a multi-award winner and influencer on the next generation of motion-based products. Children, ages 3 – 6, will love this product. Sadly adults will be challenged to fit into this bicycle seat!
Play TV MLB Baseball and Play TV Football 2 by Radica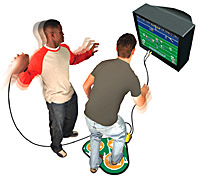 Here are two new plug-and-play products to come out of Radica, a cool tech toy company now owned by Mattel. The first, Play TV MLB Baseball comes with a bat you can swing and a ball to throw. Each item has motion sensitive electronics inside which feeds information back to your TV set. Play TV Football 2 (not to be confused with last year's release, Play TV Football) has the same tech in a football. Your teammate runs on a small pressure sensitive mat to control characters on screen to catch the pass. Both products appear to be targeting a tween audience.
Hyper Dash by Wild Planet Entertainment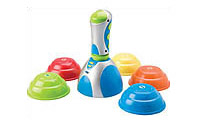 Hyper Dash is a technology toy that could be used indoors or out and does not require a television or computer to use. To start the game, 5 colored electronic targets are placed around the house or yard. Then, holding a talking electronic "tagger", spoken instructions are given to the child, like find the blue target, then the red, etc. There are different game settings that focus on math skills, team work, and timed-based searches. As a child successfully finds the requested target, the music, pace, and complexity of each new request increases. This toy is recommended for children ages 5 – 8.
Motion-based Music and Games by TikTokTech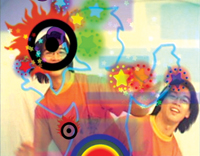 The company TikTokTech was showing two different stand alone TV plug-and-play devices. A small camera unit is placed on top of your television to play either music games or a combination of music and art games, depending on which device you purchase. While motion-based products have really only been around for a short while, these are the only titles available that provide a freeform artistic or musical experience for kids. For those that follow motion-based games, I strongly recommend checking out the user testing videos posted at the IF Media Lab website. IF Media Lab appears to be the technology and research arm for TikTokTech. These two titles are recommended for kids ages 3 – 8.
In my next post, I'll share with you a handful of surprises that caught my eye at Toy Fair. These finds may not make big headlines, but they have enough magic in 'em to make them stand out in a crowd.
Average Rating:
4.7
out of
5
based on
168
user reviews.