NY Toy Fair 2009 – Day 1 Cool Tech Find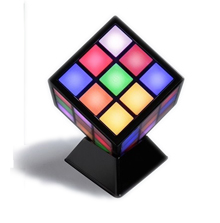 On opening day of the 2009 Toy Fair event in New York City, I began my search for new toy products that include unique application of technology for the benefit of enhancing play. While I only covered a small fraction of the show's floor (7 hours of isle wandering), I came across a few products that caught my eye. One being a digital facelift to the classic Rubik's cube, promoted by a company called Techno Source.
Let me start off by saying that I am not a Rubik's cube fan. I never could figure out those darn things. But I thought a couple of tech features applied to this toy were really groundbreaking.
First, users interact with this non-twisting cube by touching the different surfaces with a finger. It immediately comes across as an iPhone touch interface. Slide a finger along a row of lighted tiles made the cube "rotate."
Next, the cube has a built in accelerometer used to determine the active display face. Once the accelerometer has figured out which way is up, it only allows the upward face to be changed through touch. This way a users holding the cube with both hands from the side will not alter the puzzle's surfaces in unexpected ways.
There's a button to give you a hint if needed. Also included is multiple levels of undo so you can roll the surfaces back to a point where you think you may have made a mistake. When the TouchCube is rested in its docking bay to be recharged, the cube puts on a unique visual display. Think of this as your new digital lava lamp.
The Rubik's TouchCube is available for purchase in the Fall and is being offered for a suggested retail price of $149.99. Check out video below to see the product in action.
Average Rating:
4.8
out of
5
based on
264
user reviews.