Sunday, March 1st, 2009
NY Toy Fair 2009 – Cool Tech Find Number 3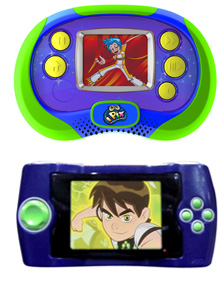 Portable entertainment devices for kids have been on an amazing journey over the last five years. Advancements with small video displays, fast and affordable chip sets, and battery technologies that last longer than ever before have brought fascinating possibilities to the marketplace, and to this year's Toy Fair.
Enter the latest handhelds for kids: The iPix, a portable video player for the preschool set, and the VEO for older children. Both devices were part of a stellar rollout of products from toy maker itoys. The two products are similar in that they both contain a small, backlit video display for watching popular television shows from Cartoon Network, HIT Entertainment, Nickelodeon, and Nelvana. Both have enough onboard memory to hold up to sixteen half hour shows. Onboard lithium ion batteries can last up to six hours on a single charge. While both devices have similar guts on the inside, their exterior form factor is made to appeal to either a younger or older audience. The video choices for each device are also age appropriate for the two different age groups.
So just how do you transfer TV shows onto the iPix and VEO? Each device can be connected to a computer via the USB port. Once connected, a visit to a unique itoys website allows users to purchase their favorite TV shows and transfer them onto their iPix or VEO. The whole experience is similar to that of loading content onto an iPod, but these online tools are customized specifically for itoys products.
The cost of the iPix is just under $70 and half hour television episodes can be purchased for between $2.49 to $2.99 each. The VEO has the exact same pricing structure as the iPix. Watch for these technology toys to become available in June of 2009.
Average Rating:
4.9
out of
5
based on
259
user reviews.