Saturday, February 28th, 2015
The following is an article I wrote for the February 20, 2015 issue of the iKids weekly online magazine.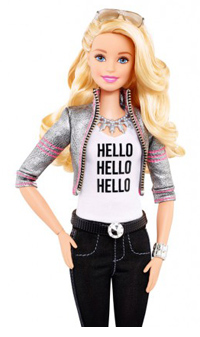 Creative play pushed the envelope once again at this year's International Toy Fair, held earlier this week in New York City. Organizers of the event reported over 7, 000 new toy products were unveiled for the first time at the show. For those who follow tech toys you may be asking yourself, "Were there any new playful app announcements at Toy Fair?" Yes, but fewer breakthrough announcements compared to last year. "How about new robots?" Yes, too many dinosaur robots. Again nothing really noteworthy. "Indie startups?" Yes, a handful to keep an eye on. "Tech toy innovation?" Yes indeed, with clever business collaborations, brand mashups, and new player innovation that pushes the industry forward.
Before jumping into notable tech, there were a few non-tech announcements worth sharing: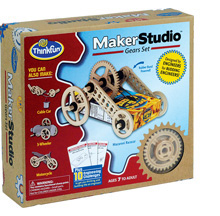 Raggedy Ann and Andy dolls celebrated their 100th anniversary. (Note: Toy Fair celebrated its 112th year.) Funko's Pop! Vinyl cube-like head collectible figures made a PR splash. Silly String now glows in the dark. ThinkFun debuted a great set of maker kits that are bound to fly off the shelves (pictured left). And those tiny green plastic army guys had a makeover, re-introduced as Yoga Joes (pictured below), where military clad figures strike various yoga poses. Clever idea indeed!

Tech announcements fell into one of a few different groupings. Some tech toys relied on creative business alliances. Others relied on the strength of a brand tie-in for its inspiration. Others took something old and made it new again. Indies provided the freshest tech toy ideas.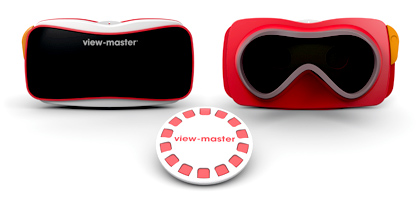 View Master – One of the biggest announcements dangled before the start of Toy Fair was the Mattel/Google partnership to bring the classic View-Master into the 21st century (pictured above). Last year Google released an innovative and inexpensive virtual reality headset kit made out of cardboard. The VR screen is powered by an Android phone dropped into the back of the cardboard box. The update to View-Master relies on similar thinking, though the body that holds your phone to has been neatly designed. While Google Cardboard is the lowest price VR experience you may find anywhere (with some assembly required, ) the View-Master update is a slick design and only cost just a bit more.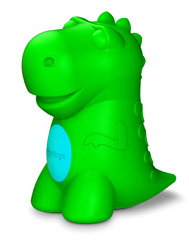 Hello Barbie – Another big tech product announcement by Mattel, Hello Barbie (pictured at top of article), might easily be referred to as Hello Siri. Hello Barbie is a WiFi-enabled plaything that can engage in a conversation with you. Ask Barbie a question and she will intelligently respond back to you. Mattel partnered with technology company ToyTalk, this tech toy has a similar feel to last year's WikiBear announcement. Talking toys are nothing new, but natural and fluid two way conversation through a toy is. Late in the week another similar announcement was made by Elemental Path with a product called CogniToys (pictured right), which is a collaboration with IBM's Watson technology. Fluid toy communication is destined to be an active product area in the years ahead.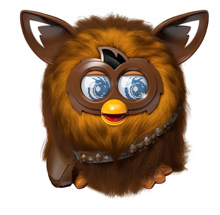 Furbacca – Hasbro has had great success over the last two years thinking up clever new extensions to the Ferby brand. This year the Star War's themed Furbacca is the latest, complete with free app. Furbacca moves in place and hums different Star Wars songs.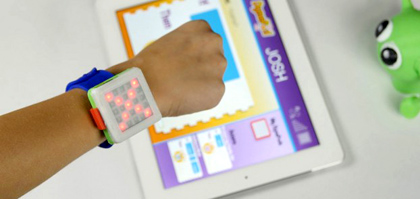 DynaPods – Last year we saw a few wearable tech toys make it to market, but most didn't really have a purpose. It was wearable tech for tech's sake. DynePods from newcomer Dynepic ties together programming concepts with a wearable display. The DynePod 5×5 LED "screen" (pictured above) communicates with an app through Bluetooth, empowering kids to make small if/then programming routines. These routines are then shared back to the screen, which can detect motion, light up, buzz, and vibrate depending on the programmed request. The display is also Lego compatible so it can be combined to create new interactive experiences.

Moff Band is a clever motion-based wrist band that interacts with your smartphone or tablet to produce sound effects in real-time. With Moff everyday objects become new pretend play experiences. A broom can become a golf club. A spatula a magic wand. Any physical item can now include a magical sound effect when taped, touched, or moved. Everything around you becomes a plaything. Moff is sure to be the big tech toy hit of the year.
While it was a good year at Toy Fair for tech, it was easy to be left with a feeling of wanting more. More toy tech innovation will indeed come. Watching this play category you will definitely notice the wind through your hair. New product announcements are coming faster through independents rather than through long established traditional toy selling cycles. Stay tuned for many more tech toy announcements to come!
Scott Traylor is the founder of 360KID and an advisor to a number of children's interactive businesses and products (none of which are referenced in this article.) He's also a former computer science teacher and currently lives in Silicon Valley, seeking out the next cool kidtech business. Scott can be reached at Scott (at) 360KID (dot) com.
Average Rating:
4.6
out of
5
based on
266
user reviews.