Tuesday, March 1st, 2016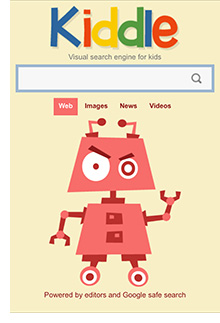 Many of us who work in the kids tech industry have been interested in the new kids search engine called Kiddle (http://www.kiddle.co/). Trying any simple search through Kiddle provides some satisfying, child friendly results. It's not a perfect service as some keywords provide mixed search results, but it's a start. It's Google-like design feels comforting to most adults, and the service appears to be a great Google search companion for the youngest Internet users. But here's the thing, … it's not Google.
What the Kiddle service does do is tap into the Google SafeSearch capabilities, which is a digital extension of Google suite of search tools. Any business can add such a search feature to their own website if they wish. The thing that makes Kiddle unique is its claim of employing editors to screen search results in addition to Google's SafeSearch. This combination provides an added layer of scrutiny to help ensure results are child appropriate. Sounds great. Who couldn't get behind that idea? A great one-two punch, right?
The problem is the Kiddle site provides no information about who's behind this service. There is a complete lack of transparency on the part of this business. Transparency is king in the children's digital world. Without it, beware of company motives and interest in doing right by the child. While on the surface the Kiddle search engine appears to be a great service to parents and children, we should all hold off from recommending it to others until the company behind it steps out into the light and reveals itself, how it's funded, and share other important aspects of its business like how it goes about hiring editors for its service.
Average Rating:
4.6
out of
5
based on
195
user reviews.