Wednesday, October 6th, 2010
[This post first appeared on the Joan Ganz Cooney Center website, where I was invited to be a guest blogger for the day.]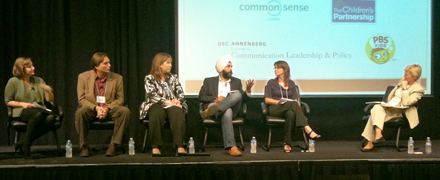 Last week I attended Back to School – Learning and Growing in a Digital Age, an event which explored federal policy, e-learning, and digital literacy, sponsored by Common Sense Media, PBS Kids, USC Annenberg's Center on Communication Leadership & Policy, and The Children's Partnership. The session that impacted me most was Empowering Parents and Kids with Technology. What was fascinating about the speakers on this panel was that collectively they described the evolution of Internet and its perceived challenges facing parents and kids over the last ten years, from a social perspective.
In the early online days, parents' concerns about the Internet were largely about preventing children from stumbling upon inappropriate content online. As time passed, the concern shifted towards one of a fear of online predators. Today, the focus of concern is more about a child's privacy, cyberbullying, and what constitutes appropriate behavior online. If you think about it, our social perceptions of the Internet and how kids will experience positive as well as negative aspects of the online world have changed a lot in a very short time. The changes we see looking back, and the changes we have yet to realize, still point to the amazing potential the Internet offers our children. Here are a few noteworthy comments from the panel that capture this change:
Mandeep Dhillon, CEO & Co-Founder, Togetherville
"There are many sociological changes occurring … If you look at the last couple of years, computing has become more social. We're just now starting to see the first generation of tech-savvy parents know more about technology than their kids. In the past it was common for a parent to turn to their kid for help with technology. That's no longer true. Now parents can actually say something meaningful about the technology their kids use. As a result, this is changing attitudes about how kids should be engaging with technology."
Marian Merritt, Internet Safety Advocate, Symantec
"It's been remarkable, over the last several years, seeing the dialog shift from fear and panic and a real lack of understanding on the parent's part to discussions like this where we've moved the conversation to one that's more realistic. However, I still think our parent community is lacking a bit, still focusing on mythology rather than the real world of their children. This gap prevents our children from being honest about what they are experiencing in the digital world, be it cyberbullying, be it downloading inappropriate content, running into things they don't understand on the Internet. I think there's some old fashioned issues we still need to contend with. Parents have been educated to protect their children from the Internet by placing the home computer in a central location. That was great information for a generation ago. Today, as our children increasingly have full access to the Internet on a device that fits in their pocket, these rules need to be adapted for a changing environment."
Catherine Titlebaum, Director of Child Safety and Product Policy, Yahoo!
"I've been watching online behavior for more than a decade now, In the past the conversation ws all about what kids consume, what they search for, and what they find. Over the years, as kids become increasingly more social online, we've had concerns about who they might connect with and speak with, and now it's really about how are your children behave online. How are they living in these digital spaces as opposed to their real spaces? The challenge for parents to recognize is that this extension to digital life is real. It's a real extension to real friendships, real learning, and there's real interaction back and forth between these two spaces."
During the opening remarks of this event, FCC Chairman Julius Genachowski spoke to the challenges all parents and children face:
"It's striking how much technology is part of kids' lives today. Children are using multiple devices to consume 11 hours of content a day. They send a text message an average of once every 10 minutes they're awake. There's a lot to be concerned about here, and I don't know a parent who isn't. We need to find common-sense strategies to mitigate the risks of the new technologies, including the safety and the privacy of children online. We need to establish new norms for families; new strategies for the home and for when kids are on the move. Technology can and must be a key part of the solution to the problems technology creates. Real solutions that address real and growing needs that honor the First Amendment. Because here's the truth: We can't slow technology, and we shouldn't try."
Though the Internet is not a perfect place, Genachowski went on to describe the benefits that are almost within our reach:
"I believe that the opportunities of new communications technologies for our kids far exceed the risks. Indeed, I think it's mandatory in the digital age – in our global digital economy – that we seize the opportunities of technology for our children; that we ensure universal access and digital literacy for all our kids; that we ensure that all our children, no matter the town or the school district they're from, have the tools they need to be full participants in our digital economy and 21st century democracy."
This vision took a huge step forward last week as the FCC voted to modernize the current E-Rate program, a mandate which was originally established by Congress years ago to bring the Internet to all schools and libraries in the US. This update will now guarantee these same institutions the very best and fastest broadband access to pave the way for innovative high-tech tools that are essential for a world-class education.
As we begin to see the National Broadband Plan advance this country's digital infrastructure, the changes in social perceptions mentioned above only help propel this promise, complete with all of its widening educational possibilities. What an exciting time to be involved in the digital universe on behalf of children (and everyone one else too!) Yes, very real concerns will continue to exist in this digital future, perpetuated by media outlets looking to capitalize on shocking headlines, but it's truly amazing how our collective intelligence about the Internet is changing from one of fear and reservation, to one of infinite possibilities.
Average Rating:
5
out of
5
based on
250
user reviews.