Wednesday, September 26th, 2012
[Note: this is an excerpt from the upcoming October 2012 issue of Children's Technology Review.].
When it comes to apps that actively engage young children, one of the companies with products on every list is Duck Duck Moose Design. This three person studio — funny name and all – was one of the first to the children's app scene, with an app called Wheels on the Bus.
Duck Duck Moose is a three person start-up based in San Mateo, CA. It launched it's first app in 2009; today there are 14 DDM titles, collectively accounting for about 2.4 million paid downloads (publisher numbers).
On September 26, 2012, Duck Duck Moose announced it will be changing and expanding it's business, with a $7 million investment from Lightspeed Venture Partners, Sequoia Capital and Stanford University. This type of investment raises questions that every small publisher hopes to deal with. "What do we do with lots of money?" "Is it possible to grow in a smart way, and keep the focus on quality?" And more importantly, "is this type of investment, and the constraints that come with it, a blessing or a curse?"
Of course, only time will tell. But we can say one thing for sure — Duck Duck Moose Design is once again charting new ground, as one of the first small mom-and-pop app publishers to get a big investment. Many other small children's app publishers will be watching from the sidelines with great interest to see how this cash infusion will affect their work.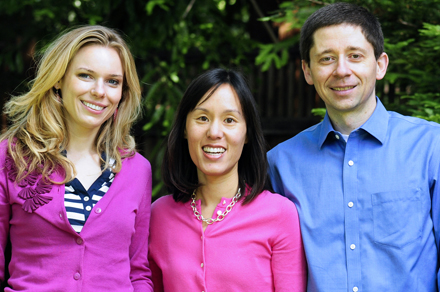 (Duck Duck Moose Founders Nicci Grabiel, Caroline Hu Flexer, and Michael Flexer)
A full interview with DDM co-founder Caroline Hu Flexer will appear in the October issue of Children's Technology Review. In anticipation of that issue's release, here are a few questions from the full interview to come.
Scott Traylor: Tell me about the first app you developed.
Caroline Hu Flexer: As a hobby, we started designing the Wheels on the Bus app for our own child. My husband Michael, and our good friend Nicci Gabriel worked on developing the app part-time over a three month period. We all had other full-time jobs. We launched that app in 2009. Later that year we won a KAPi Award, our first children's industry award, and that was the beginning. That's when we realized that maybe this could become a business. Wheels on the Bus continues to sell three-and-a-half years after it's launch, and it's still in the top charts. It wasn't until 2010 that Nicci and I started working full-time. Michael started full time in 2011. It was just the three of us up until early this year. Recently our good friend, Jesse Ambrose, a founding engineer at Siebel Systems with my husband Michael, joined our team full-time. The four of us basically created the first 11 titles. Today we're a team of nine, including the three founders.
ST: How has your thinking changed about developing apps for kids since you started?
CHF: The core of it hasn't changed. We've always put kids at the center of what we do, but we're always learning different things with each app and with different ages we may be targeting. We've done a lot of different types of apps. We started with toddler apps, like The Wheels on the Bus, which had one or two things for a young child to focus on. We didn't want our apps to be over-stimulating, to have too many things going on at the same time. From a developmental perspective, we wanted our apps for toddlers to have simple interactions, whereas as we develop for older children, our apps have been more open-ended and have evolved into more layered interactions. One example for older children is our Draw and Tell app, where children make their own drawings, record their own voices, and create their own story. It's a very different approach to the interaction.
ST: While there are many more big companies with big brands going into the children's app business, would you say big business has seen big success from those efforts?
CHF: There have been some successes. It's still rare to find interesting new content. There are a lot of big children's media companies that have good apps and include characters that really appeal to children, but I think it's a very unique time where we can invent new experiences using new characters because it's a new platform. We're able to do something really creative, and I think that's a pretty rare opportunity. There are not that many companies creating their own original story lines and characters. It's much more fun to invent something new, and it's a better business model for us too.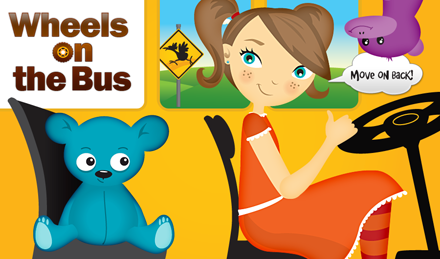 (The first children's app from Duck Duck Moose called Wheels on the Bus)
Average Rating:
4.7
out of
5
based on
230
user reviews.