Thursday, January 8th, 2015
In the final weeks of 2014, I spent a lot of time reviewing all of the kidtech product I had seen throughout the year. In part, taking stock of the past year's digital playthings was related to providing recommendations as a judge for the KAPi Awards (KAPi meaning Kids at Play Interactive.) The KAPi's are an industry award for innovation and outstanding design in children's interactive media. While you can find the complete list of KAPI award winners here, there were a handful of products that didn't make the list that are worth mentioning. The product may have been too old for kids, or was not digital, or was simply a book. I thought it might be helpful for others to see some of these additional products that, in this reviewers opinion, are deserving of high praise for moving the interactive industry forward in 2014.
Here's my list…
The Book with No Pictures – by B.J. Novak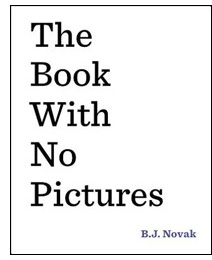 The first item on my list is not an app. It does not require batteries, and no assembly required. It's a children's book. Buy it, find a four or five year old child to read it to, and let the fun begin. If you don't have a young child send it as a gift to someone who does. As an adult, don't over analyze why this book works for young children. It's silly, appropriately speaks to its target audience, and it just works. I call this book out because of the disruption it's caused in the children's book world, and because it can help teach app developers to think about alternative approaches to content creation. Break outside of self-imposed barriers to creating content in any medium.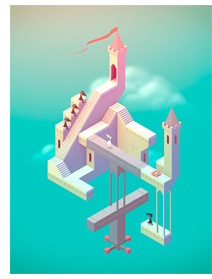 I fell in love with this app earlier in 2014. The artwork is absolutely beautiful, the Escher-esk puzzles are fun and challenging. It did win a KAPi Awards for best app for older kids, but teens and adults will greatly enjoy it as well. It's only flaw is that the app eventually ends. It's a game you wish would go on forever. But fear not, the makers of Monument Valley released an additional content download late in the year to extend the challenge with additional levels of play. This app sets the bar very high for the rest of the industry. Currently it's the yardstick I use to measure against all other apps.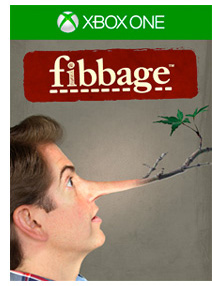 Here's one you won't find on any kids list. The game of Fibbage is rated T for Teen, and is a major hit at parties for adults young and old. They're many things to say about this game. First, do you remember the You Don't Know Jack titles from years ago? Well, Fibbage was developed by the same creative folks! The game uses a series of fill in the blank phrases, and audience members try to give a response, or a lie, that throws others into voting for your answer. After a short number of rounds the player with the most votes wins. It's easy to learn, and the humor grows as more people play. But here's what I really appreciate about this game. In an age of over the top 3D graphics, and deep story lines, and super slick characters and properties, Fibbage is incredibly simple console game, and in a sense a minimalist approach to game play that beats all other games it competes with. It's also designed to work easily with any kind of smartphone, and you don't have to be in the same room to play with others. You can have team members from around the world compete with you! Be forewarned there's crude humor and fart noise throughout. If you can put that aside you will be amazed at how much fun this game is. As a developer, you will appreciate the beauty and simplicity of it's design.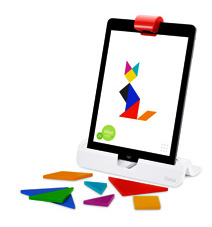 Interactive products that successfully marry together fun interactivity software with physical objects can be counted on just one hand. The industry is littered with virtual and digital product combination failures. Osmo, another KAPi Award winner, stands as one of the shining example in this category. The product can be purchased at most Apple retail stores, and comes bundled with physical pieces to play three games, along with the three apps you download for free to play those games. There's a fun and challenging tangram puzzle, single or multi player spelling games, and a drawing game where you control the direction of falling virtual balls based on what you draw. It's a clever set of games and I can't wait to see what new products this company announces in 2015.
Positive Digital Content for Kids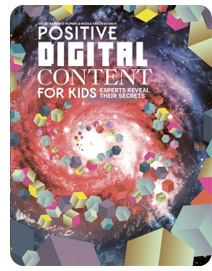 There are two things I really admire together; great design and insightful articles about the interactive industry. This beautifully designed online book includes both! It's a free, informative guide for developers, complete with excellent interviews from leading children's product developers like the BBC, Ravensburger, and Toca Boca. Interactive media designers, play designers, and print designers can learn a lot about making successful products and great designs for kids from this book. Another must read for product producers. For me, it was one of the best finds of 2014. Now download a copy and enjoy, but do know the book is also available in a limitedprint run.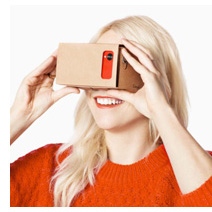 Regardless of what you may think of this deal, the world of virtual reality took a giant step forward in 2014 with the acquisition of Oculus Rift by Facebook. What many people may not be able to see is just how fast the VR space is moving. Google Cardboard is a great example of that breakneck speed. Cardboard is an innovative, low cost solution to experience virtual reality. Folding together a pre-perfed cardboard mailer and sticking your Android compatible phone in the back allows anyone access to a compelling VR experience. The idea itself suggests that a lot can be done with VR in short, affordable bursts. The Google Cardboard initiative is definitely thinking outside the box. Watch for many copycats in the coming months.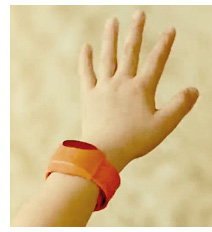 The Moff Band is a set of two flexible wrist bands that communicate motion activity of your arms back to an Apple tablet or smartphone. That motion drives a simple sound effects app. Ever play air drums and wish you could enhance the experience with the perfect set of well orchestrated rhythm effects? Ever have a wooden spoon and needed the audio support to make you feel like you dueling with Zorro? Or maybe a princess' magic wand is more your style, complete with sparkle sounds? The Moff Band provides a great audio backdrop to your pretend play. The product was a huge Kickstarter success in Japan earlier in the year, and is now just making its way to the US. Watch for it in 2015.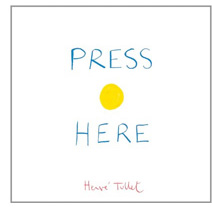 I'll end my list with another children's book. Press Here is not just another great children's book, it's an excellent example of how to capture the spirit of great interactivity. In a sense it's a new breed of books, one the feels like the author spent a lot of time studying the world of successful kids apps and theater of the mind, and folded the two into the book's pages. Anyone working in the industry must experience this book with a child. This is not simply a book for techie wonks. Kids love it. You will love it. It's a great addition to a young child's library as well as your professional library.
Have you used any of the above products? Have you read any of these books? Have thoughts about other products that should be added to this list? Leave a comment below to share with others!
Average Rating:
4.4
out of
5
based on
174
user reviews.