Tuesday, May 19th, 2009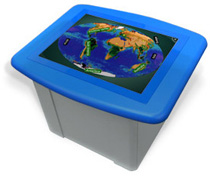 It's often been cited that if one were to go back in time 100 years to visit a classroom one would see no difference between that classroom of yesteryear and that of a classroom today. While indeed there are many similarities between the two classrooms, there are some major differences. First, a difference that cannot be seen is the many bits and bytes floating in the air of classrooms today thanks to wireless computing technologies. Second, the surfaces within a classroom are turning into interactive screens. As many technologists within the ed publishing space are certainly aware of, the interactive whiteboard is growing in popularity. I see a trend that has yet to occur related to these new interactive technologies that can be seized on today.
Currently, interactive whiteboards (IWBs) are being used at the front of a class for instruction that just a year or two ago occurred on a blackboard or with an overhead projector. Could you imagine a classroom where each student had their own netbook on their desk that could interact with an IWB in real time? Also, looking one step beyond netbooks, recently SMART Technologies announced its new interactive surface product, the SMART Table, which could very easily lead many similar manufacturers to convert student desks into interactive desks within a few short years. How can publishers take advantage of this opportunity that is almost visible on the horizon?
A number of new products can be defined to not only take advantage of IWB instruction, but to facilitate learning through two-way conversations between IWB and interactive desktop. Such functionality could result in the next "must have" learning product. Such products would allow all students to participate in the digital instruction, alongside the teacher, in real time. Also, if every student could interact from the comfort of his/her own desk, teachers could also monitor student progress from afar either in real time or after the class day has ended. Teachers could also scan student efforts from the IWB, and project a student's work in much the same way Timbuktu technology allowed years ago, displaying a student's interactive table on the IWB for everyone to see.
Another yet to be explored opportunity by publishers relates to classroom use of IWB altogether. For some instructors, the art of teaching can be a linear process and for the most part, delivered as a one-way conversation to students. Interactivity begs for participation. My greatest fear with IWB materials is that teachers will use the technology to deliver content in a similar manner to using an overhead projector. IWBs allow for an interactive opportunity that is a two-way or participitory conversation, or at very least, a one-way conversation that can branch off in many directions based on student needs. What publishers are doing today with IWBs is similar to when radio professionals tried applying their expertise to television in the early days of the new medium. Content creation sensitivities for radio did not automatically port to television, and as a result, many mistakes about how best to use the medium were made. It wasn't until the invention of the three-camera shoot and many additional "formal features" that the medium of television began to succeed as a means to communicate. What happened in these early days of television is also occurring today with IWBs and most surface computing.
What I'm noticing while my own company is defining and developing IWB products for publishers is that experimentation, user testing, and research are areas soon to evolve in this fast growing space of ed tech. Simply converting print material into PDFs as a solution for successful IWB products doesn't fully exploit the interactive teaching possibilities that can be found with these new devices and doesn't create the best value for the classroom dollar. True product successes will occur when publishers think outside the blackboard and outside the overhead projector to create a product that has more to do with the language of interactive engagement and less to do with that of linear print.
Average Rating:
4.6
out of
5
based on
157
user reviews.