Friday, June 8th, 2018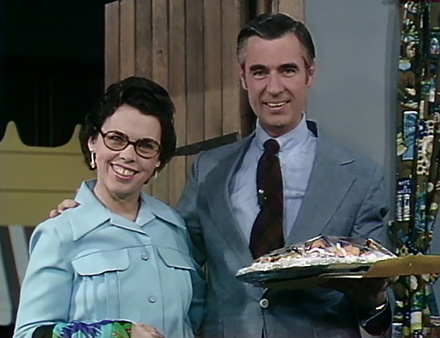 [The following is an updated version of a feature article I wrote for the online magazine Kidscreen, June 7, 2018.]
It's hard to imagine just how many people have been touched by the work and words of Fred Rogers. For many of his oldest admirers Fred's PBS show Mister Rogers' Neighborhood captured the attention of young viewers in the US starting in the late 1960s. Over the last decade Fred Roger's production company continues to create new programs that captivate young children around the globe. While Fred is not here today, his universal message of a kind word and a caring neighbor resonates as strongly today in his shows as it did when he first began working in television.
Being a lifelong fan of the Neighborhood I was thrilled to have the opportunity to work with Fred's company. Years after he had passed away the Fred Rogers Center invited me to participate in their biennial FredForward conference. Through these events I met many like minded children's media producers, child development experts, television historians, and teachers, all touched by Fred's vision. While attending my first FredForward, I also had the chance to meet Joanne Rogers, Fred's wife of over 50 years.
Joanne is a sharp, spirited and thoughtful person, with many wonderful stories to tell. A leading child advocate herself, Joanne has worked on behalf of children and families for more than 50 years through her charitable efforts. She also serves as chair emeritus of Fred Rogers Productions, and in 2016 she was honored by the Children's Museum of Pittsburgh with the Great Friend of Children Award.
Hearing about the upcoming release of Fred's documentary film "Won't You Be My Neighbor?" I thought it would be a great time to reconnect with Joanne and ask her about the film. So I gave her a call. I spoke with Joanne about the genesis of the documentary, as well the story of their relationship, Fred's early days in the TV world, and what's changed in kids entertainment since Mister Rogers first graced the airwaves. Below are Joanne's responses to my questions, which have been edited for clarity and length.
Scott Traylor: How did you and Fred first meet?
Joanne Rogers: I grew up in Jacksonville, Florida and music was my life. I began playing piano at the age of five, and by the time I was in high school I won a four-year scholarship to Rollins College in Orlando to study piano. I had a wonderful, wonderful time at Rollins.
Fred went to college at Dartmouth. But after he started there, he realized it wasn't a good fit as he wanted to become a music major, and Dartmouth didn't have a music department at the time. However, Dartmouth had hired a professor to start a music program—and that person came from a small college in Florida named Rollins. This professor suggested to Fred he transfer to Rollins.
Fred came for a visit to my college in my sophomore year. We met then, and he started at Rollins when I was in my junior year. While we were together at Rollins, we became very good friends. When I graduated in 1950, I started a master's program at Florida State. Fred graduated in 1951 and was interested in getting involved with television, which was a new thing at the time.
ST: How did Fred get his start in television?
JR: After Fred graduated, he went to New York and started an apprenticeship with NBC. There, Fred learned the business of television. He learned to direct and produce. He was able to work on all the musical programs, like the NBC Opera Theatre and the NBC Symphony Orchestra. All of these shows were performed live. During this time he was assigned to a music studio that was just getting started in color television. The funny thing was that Fred was color blind, so he needed some help from the stage crew.
In the spring, as I was getting closer to finishing my master's work, Fred wrote me a letter proposing marriage. I didn't wait for my letter to go back to him, I called him. Fred then came down to attend my graduation ceremony and he presented me with an engagement ring. That was in May and by July we were married. After our honeymoon I moved to New York where Fred continued to learn the ropes in television for another year.
ST: What television work was Fred part of before Mister Rogers' Neighborhood?
JR: Fred grew up in Latrobe, Pennsylvania, and his father called to tell him about a new local television community getting started around the idea of educational television. It was located in nearby Pittsburgh and Fred came to take a look. It was during this visit he realized this was something he would like to be involved with, and something where he could use every talent he had.
So he was hired by the station and we moved to Pittsburgh, getting in at the very beginning. That was the end of 1953, and after just a few months, the station, WQED, went on the air. The station wanted to offer educational programming for all ages, and they also had plans to air children's programming every day. Fred volunteered to take that challenge on. So did one of the station's secretaries, Josie Carey. Together they started a program together called The Children's Corner. [It was on the air from 1953 to 1961.]
ST: How did the idea to use puppets happen on Fred's shows?
JR: In the early days of the show, there was a backup need to bring out puppets. Josie was the hostess of the show and Fred was the producer. Fred also played background music. The show itself would often play various kinds of film clips during the airing, and these films were made out of a material that was very brittle. Often these films would break during a live broadcast. When these films broke, they had to fill in the time, and that's when the puppets were often brought out. It was from these moments that the puppets appearance started taking off.
The Children's Corner grew to be very popular, but it was lighthearted entertainment, and very different from what would become Mister Rogers' Neighborhood. Fred had yet to learn about child development at that time. That came after The Children's Corner, when he was studying in seminary school, and he had taken a class in child development at the University of Pittsburgh as part of his seminary training.
ST: Do you have any insights you could share about the state of children's television today?
JR: Technology moves so fast now that I'm at the age now where I consider myself a digital immigrant, though email and my iPhone are a big part of my life. But I get lost in a lot of it. I'm delighted with Daniel Tiger's Neighborhood, and I love Peg + Cat. But many shows are just fast. I get so undone with the speed, like a fast-talking news person.
I'm sure there are more Freds out there, but a lot of people say if Fred had to do it now, he wouldn't get his show on the air. It's just too slow. Fred was someone who could insist on time, and pace, and silence. He thought silence, and how to use silence, was the best thing yet. With a turtle, for instance—let's look at a turtle on a show. Or to ask children, "How long does a minute take? Well, let's just see!" That just would not go today.
I remember the time at the Emmy Awards where Fred asked the audience to think about someone important to them over the course of 10 seconds. He used to give a similar speech, where he would ask audience members to reflect over 20 or 30 seconds. But the Emmy people wouldn't give him more than 10 seconds.
ST: How did the idea of the movie Won't You Be My Neighbor? get its start?
JR: There's a concept called "slender threads"— that is a good way to describe how the movie came to be. Slender threads connect so many things in one's life. While these threads may go in every direction, they also connect back together.
As you may know, the cellist Yo-Yo Ma was a guest on Mister Rogers' Neighborhood. Yo-Yo Ma's son, Nicholas, was a big fan of the show and would attend the filming whenever Yo-Yo Ma was on. During Yo-Yo's second appearance, his son Nicholas played the piano. Many years later, a documentary was being filmed about Yo-Yo Ma's Silk Road Ensemble by Morgan Neville. By that time, Yo-Yo Ma's son Nicholas was in film school, and appeared in this documentary. Nicholas suggested to Morgan the idea for a documentary about Mister Rogers. So one day I get a call from Yo-Yo, asking if I would talk to his son Nicholas, because he had a project he wanted to ask me about. That's how the idea for the film started, and Nicholas is one of the producers for this film.
Morgan said to me, "Mister Rogers' Neighborhood was such a big part of my childhood. With this film, he is now coming into my adult life." I think that's such a wonderful way to think about this film. For me, it's just the most incredible gift. It's just the most warm, and loving, and wonderful tribute to Fred.
Average Rating:
4.6
out of
5
based on
256
user reviews.