Tuesday, September 3rd, 2013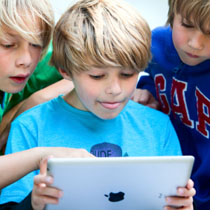 This has been a busy year of development for my company. We've been creating multiple interactive products for kids. Some are learning apps, some are online games, some electronic toys. Some are for preschoolers, some for tweens. All of them have one thing in common. The completed products must successfully engage kids. In an effort to make sure we are making the best interactive products possible, we need to test our ideas with children. When I say "we" I mean the larger kids industry, not just my company. For those who develop any kind of product or media for kids (especially all those children's app developers out there! I'm talking to you!) you MUST kid test your products. Get your software builds, your animations, your web games, your characters, your paper prototypes out there in front of real kids! Do not go to market without testing your assumptions, you may find you had it all wrong. Testing is an invaluable part of children's media development and should be part of every product you make if you work in the kids biz.
There are a number of ways to recruit kids for testing. You can reach out to family and friends, kids in your neighborhood. However, sometimes you need to reach out beyond your known circle and find kids from another location; say kids that live in a city, or bilingual preschoolers, or eight to ten year olds that belong to Girl Scouts, or tweens that like to play baseball. What do you do then?
While you can reach out to specific youth groups, Boys and Girls Clubs, and other kid-focused organizations, you can also use Facebook. Now I know you're saying "What?! Facebook? For recruiting kid testers? Are you crazy?!" As with all kid testing, you're starting a conversation with a parent, and recruiting through Facebook means you are looking to have a conversation with a parent about kid testing.
Here's a more detailed look at one kid testing ad campaign we placed on Facebook. We started by selecting a particular town we wished our testers to come from. The 10 mile radius around that town had 168, 000 parents using Facebook. Selecting a thinner slice from that group, parents with children ages 4 to 12 resulted in 1, 400 Facebook users. When you start a Facebook ad, you can get very specific about the kind of person you wish to reach. Do you want to reach just men 25 years of age or older? How about just women with a PhD? All of this is possible to define in your campaign. However, the more specific you get with your target demographic, the smaller your audience will become.
We posted an ad for kid testers for 45 days, with a maximum bid of $2.50 per click, not to exceed a cost of $50 a day. Our ad appeared over 712, 000 times (impressions), reaching more than 8, 200 Facebook users in our target age and location (demographic), resulting in a click-through rate (CTR) of 427. We heard from about 45 parents, leading to 22 parents bringing in 30 children, all for a total cost of $560, or about $1.30 per click.
Another way to look at our recruiting costs: $25 per parent or about $19 per child. This was just our advertising cost and did not include email communication time, phone calls, testing time, analysis of results, or the stipend we offered a parent for having their child come in to test with us.
Was it worth it? Yes, in the end Facebook definitely helped us find kids from a specific geo-targeted location to test with.
Was it perfect? Hardly. There were many frustrating parts to working with Facebook. First time advertisers will be annoyed that once you place an ad, it can take many days before your campaign is approved and goes live. While you're waiting, all you can do is think about what you did wrong and why your ad is not producing. During this time you'll probably change your ad copy and up the daily maximum bid thinking it will help. But hold tight, Facebook is just being Facebook. It takes time for an ad to kick in, and you will receive next to no communication from Facebook while you are pulling out your hair, wondering what's going on.
Were there any surprises? You bet. While many parents found our ad on Facebook, there were some "uber parents" that helped spread the word around their neighborhood that we were looking for kid testers. About four parents that came in were in this category. They were great at helping reach many more parents, including non-Facebook users as well.
In the end we met many great parents with some wonderful kids. All of which helped us refine our product and made it better. We couldn't be happier, and our finished product shines as a result of the feedback we incorporated back into development! Thank you parents and our 360KID testers!
Bottom line: It doesn't matter how you find kids to test with, using Facebook or some other means, what matters is that you test! Doing so will only help make your product shine, stand out from the pack, and lead to more successful interactions through your product with kids. Now get out there and start testing!
Average Rating:
5
out of
5
based on
300
user reviews.